For a long long time, I had one vehicle in my wish list, that is to possess a WILLYS Wagon. Why not? After all it was one of the most iconic vehicles of her times and I was connected.

My late father who was an ex-army officer, on two occasions had the WILLYS Wagon as his Staff car*. The first Staff car was when he was the Colonel Administrator of an Infantry Division in Jammu and the next was when he commanded an artillery brigade in Gujarat.
*Staff car in military parlance is a vehicle used by a senior military officer and is part of their country's military fleet. This term was first put in to use by the British military during World War I.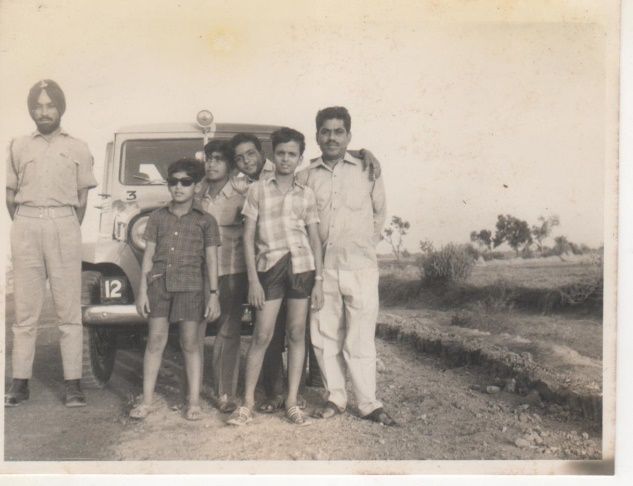 The WILLYS Wagon's made by JEEP were very comfortable vehicles in spite of the fact that they were two door models. One had to do a bit of acrobatics to access the rear seat! But once inside, even on long trips one never felt fatigued. The vehicle was at home on both tarmac and dirt roads. My memories of spending time in that vehicle still live inside me, though 4 decades have passed.

The fact that they were 4-WD made it a good vehicle for the army. It gave one the comfort of a car with the ruggedness of a regular jeep* (a term used here in India to describe any SUV)!

The station wagon version was also popular with certain government departments like the Agriculture and Health ministries, where a fair amount of travelling was done on rural unpaved roads. They were imported in to the country in large numbers. Several of these were donated by UNICEF to the Government of India in the sixties for rural health clinics.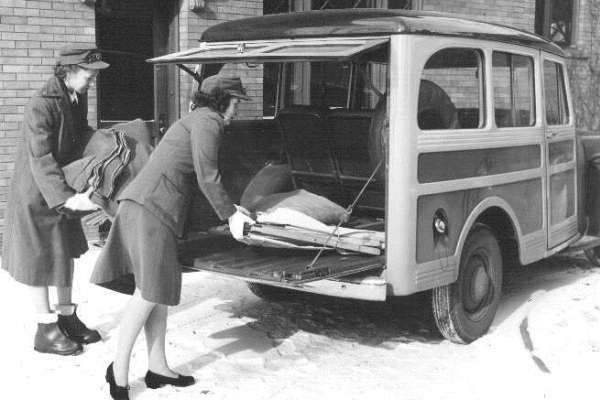 Now for some history on this wonderful vehicle! The WILLYS Station Wagon was in production in the United States from 1946 until 1965. Designed by the well-known industrial designer Brooks Stevens the Willys station wagon was initially a 2WD and in 1949 the 4WD version was introduced. It was a huge success and over 300,000 units were made in different variants which included the station wagon, pickup truck and panel truck in all the 19 years they got made.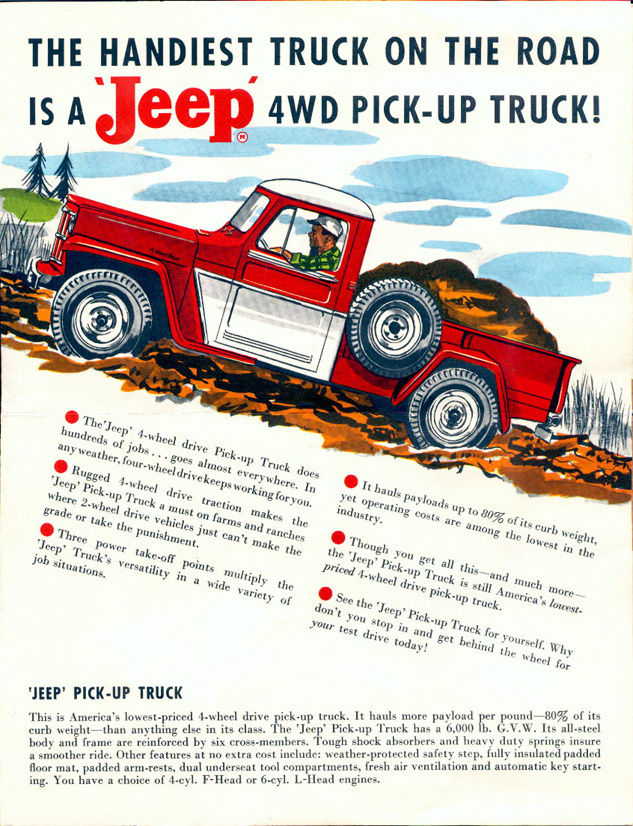 WILLYS also set up a plant in Argentina in the 50's. But the plant was taken over by Ford Brazil and the same station wagon was rechristened as the Ford Rural with some cosmetic changes to the grille. It carved a niche for itself in the South American market as well. Ford also came up with a pick-up version for the South American market named the F-75.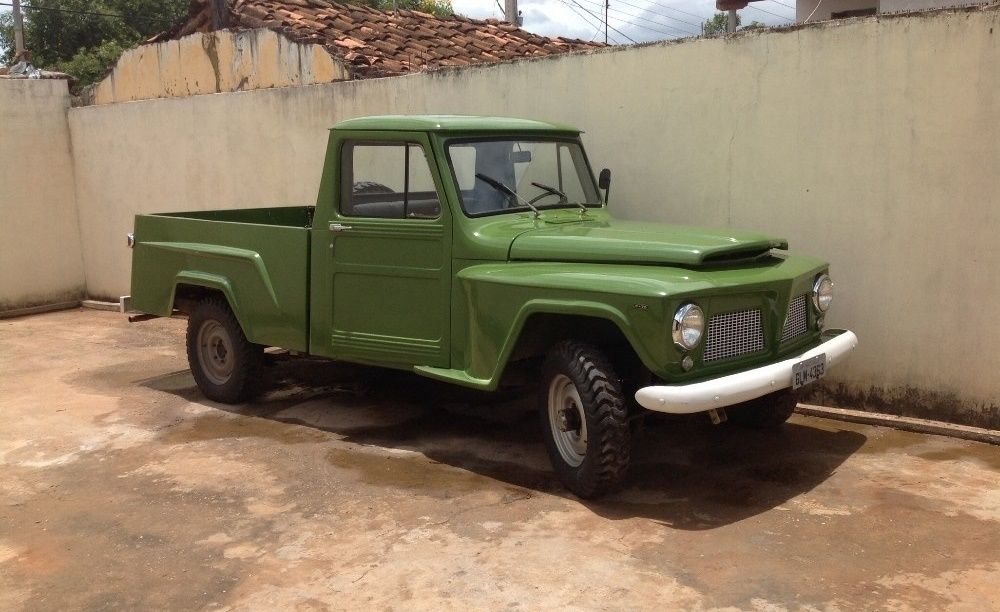 Not to be left behind, Mitsubishi of Japan too collaborated with JEEP to produce the same wagon to compete with home grown brands like Toyota and Nissan. Here, they had a very long run for nearly 45 years from 1953-1998.
In India, Mahindra and Mahindra assembled WILLYS, under licence from JEEP. They were a common sight on Indian roads in the sixties and well into the seventies. Being large, 7 people could easily be seated.

The JEEP Station Wagon was probably the first SUV in the true sense. This model ultimately gave way to the JEEP Wagoneer.

For several years, I was looking for the exact model, but nobody sold them in India, nor I could see them on websites abroad. But Scale Model Cart had them readily available in their stocks (they sell a lot of exotic stuff privately to customers that are not available online, but made available when you write to them) and Genie their founder immediately proposed to give one, that 'almost' looked the same. The very next day, it arrived and I couldn't believe my eyes.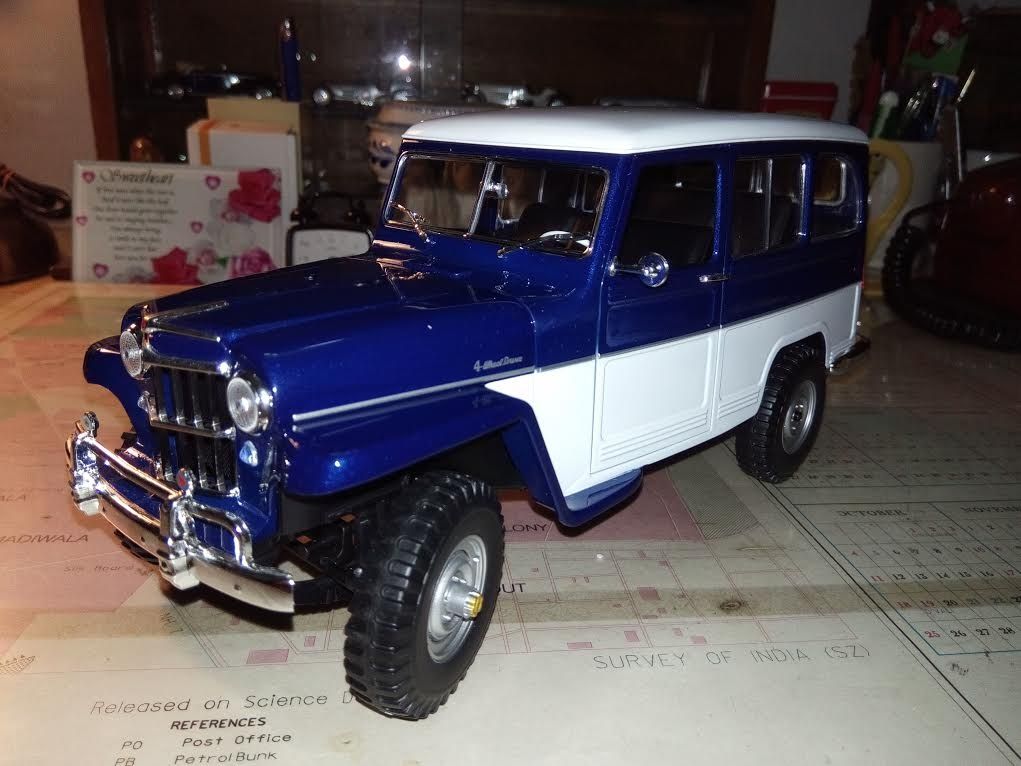 Genie (as known here and abroad is known for fulfilling wishes of customers with very unique models) also called me next day to say, that he can get the exact model in scale 1:18 that my father possessed, but will take him 2 weeks. He said, what I thought was not possible. What is 2 weeks compared to the 40 years that passed by? In 2 weeks it arrived and today it is the most prized possession I have, that sits on my writing table. It is the same WILLYS that, I rode.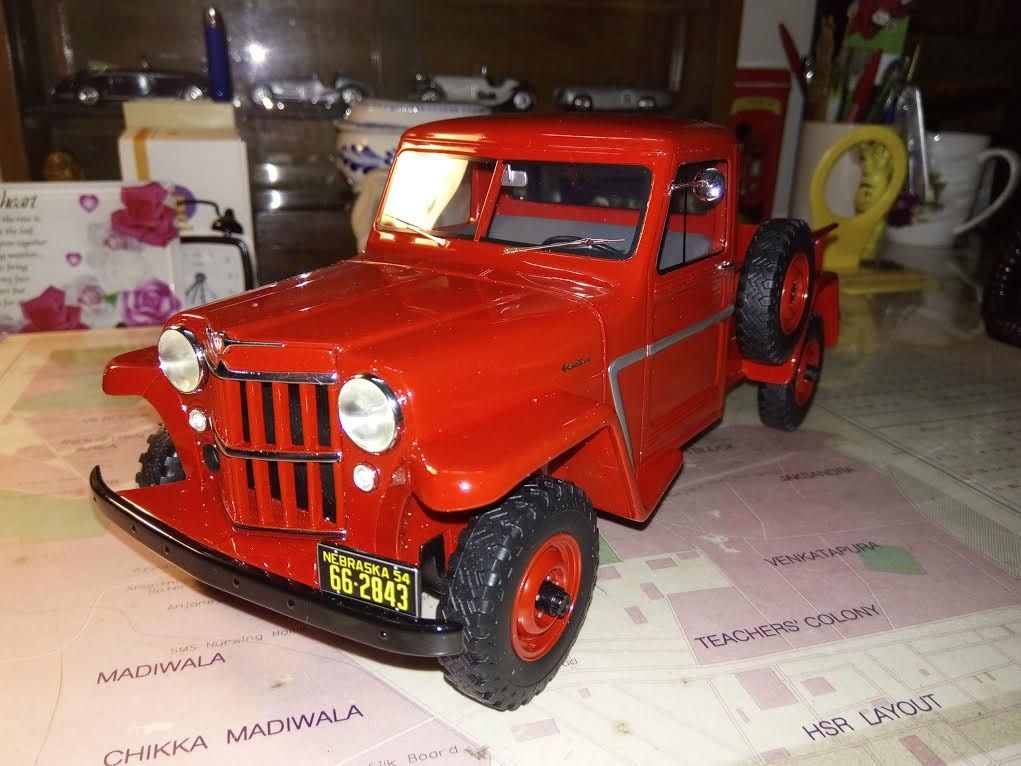 WILLY(s), the filly with 4 wheels is still being sold @ Scale Model Cart.

- Varun, Bangalore